I decided a while ago that there was no reason to make a decision about the backsplash until the painting, cabinets, counters, and floors were finished. Most of the reason is that my inexperience tells me I ought to tread cautiously this first time and figure out what is practical and what colour and pattern compliments the decor. (By the way, the same goes for the pendant lighting above the sink.)
I placed a number of pictures on my pinterest board.
And I'm continuing to collect other ideas.
An artist by nature, I'm wanting something not plain, but not too fancy. Something unique. Some depiction of who I am and what I love when I'm in the kitchen. I saw a hand-placed mosaic that was stunning, and it made me wonder if I could do something unique like that, albeit not as intricate or detailed.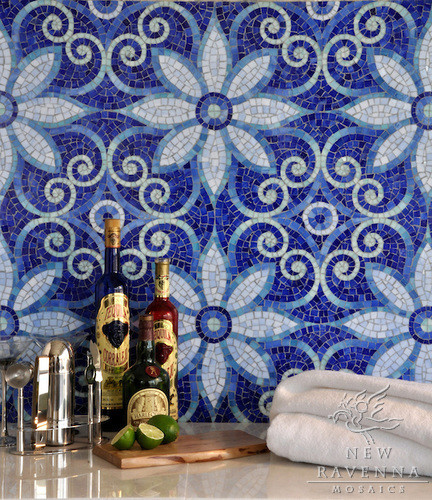 So I played around with
this online mosaic planner offered by WholesalersUSAInc.com
. Well, my interest quickly faded. I didn't even know where to start or what idea to project.
But there were several different designs and ideas that allowed me to move towards something I would like. Keeping in my mind that the cabinets will be dark espresso brown and the countertops white champagne, these are the ones that drew my interest the most:
Stainless Steel low backsplash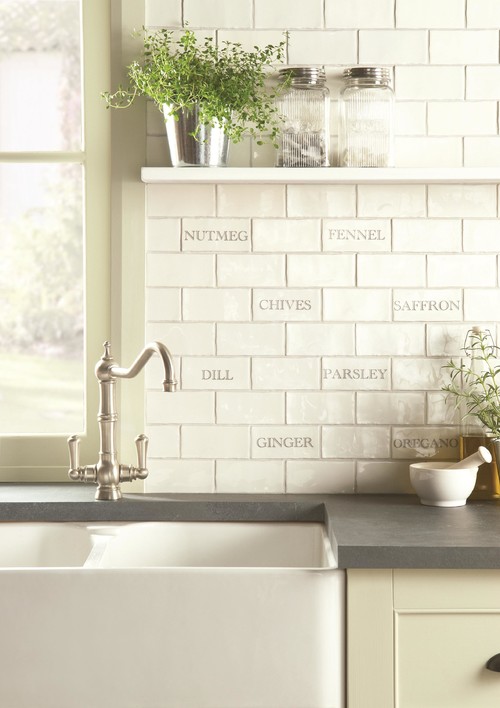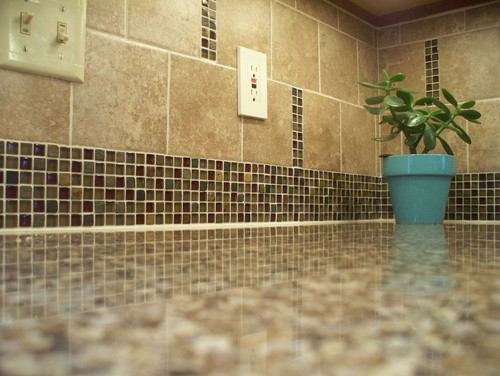 Originally when we were ordering our cabinets, Jason asked if we wanted a backsplash on the counter or not. In other words, the could add a short bordered backsplash using the same counter material. I decided to have the backsplash go all the way down to the counter instead.
But it gave me the idea that maybe saving the paint colour, which is very beautiful and let's admit it, kind of expensive, I could find tiling to trim the bottom of the counters all around. I found some natural stone backsplash at Home Depot today...
...and had the idea that I could cut each piece in half and line them up at the bottom against the counter.
That doesn't look so bad, does it? Maybe i need to find some trim for the top so the transition from stone to painted wall is not so sharp.
But there was another idea that came too me when i saw the picture above with words on them.
That lead me to look at some unique hand-painted tiles
and I found this link on eBay
! Beautiful vintage tiles.. for really great deals. And I found two that I just can't resist!
I bought this one. It's on its way!
Afterwards, I found this one that's also completely delightful.
Yeah, yeah, I'm a cat person. haha.
There was a time a while back when I bought unbacked ceramic tiles and ceramic paint. Once painted, these items could be baked in the oven for the paint to turn into a glaze. At that time, we painted single tiles and created fridge magnets out of them. My mother still has all four.
I wonder if I give my brothers (who are the drawing artists in the family, I'm the musician) blank ceramic tiles and some ceramic paint, if they could come up with something I would love. Hm....